On July 30, the opening ceremony of Road Show on China's Participation in Expo Dubai organized by the Organizing Committee of China Pavilion of Expo 2020 Dubai UAE, Embassy of the UAE in the People's Republic of China and sponsored by China International Chamber of Commerce was held in Beijing Expo Park. At this opening ceremony, ARROW was officially licensed to be the "designated ceramic sanitary ware supplier for China Pavilion at Expo 2020 Dubai UAE". ARROW was chosen once again by China Pavilion following Expo 2015 Milan where it was chosen as the sanitary ware brand designated by China Pavilion of the Expo. ARROW will once again step onto the international stage for and on behalf of quality of China.
Known as the world's economic, technological and cultural 'Olympic' event, the Expo, with its grand view of the technology and product display as well as its brilliant performance and magnificent scene full of glamour, becomes a stage where all countries in the world can demonstrate their respective strength. Expo 2020 Dubai UAE is the first expo held in the Middle East, Africa and South Asia regions, and is also the first expo sponsored by Arabian countries. Mariam Shamushi, Charge d'Affaires ad Interim of the Embassy of the United Arab Emirates in the People's Republic of China, said in his speech that the theme of Expo Dubai was to 'communicate in ideas and Create the Future, and that the two countries were making unremitting efforts to 'communicate in ideas' and were both the leaders of 'creating the future" in their respective regions.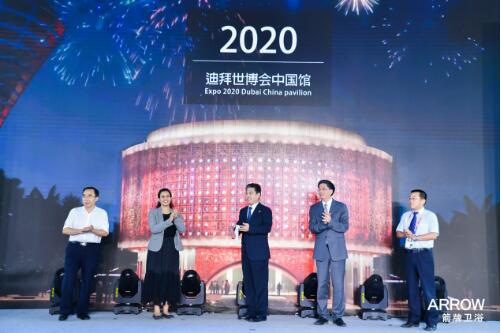 Figure: Start of Road Show (Beijing) on China's Participation in Expo Dubai
It is learned that China Pavilion of Expo Dubai covers a land area of 4636 square meters, with the theme as "to construct a community of human destiny -- innovation and opportunity", closely following the keyword as 'innovation', it demonstrates great changes from Made in China to Intelligent Manufacturing in China as well as rapid rise of brands in China.
Reentry into the Expo to demonstrate China's brand strength
At the launching ceremony, ARROW became a contractual partner to SAIC, Tencent, Wuliangye and other well-known enterprises in China, and was awarded the "designated ceramic sanitary ware supplier for China Pavilion at Expo 2020 Dubai, UAE. It was the second time for ARROW to be chosen by China Pavilion of the Expo following the last Expo Milan. With its quality and scientific and technological innovation, it has become a representative for stronger brands in China's ceramic sanitary ware industry.
At the Expo, Zhang Shenfeng, general delegate for China Council for the Promotion of Trade and the Government of China Pavilion at Expo 2020 Dubaic granted the license for Lehua Household Co., Ltd. According to the introduction, the Expo China Pavilion will focus on the display of China's innovative science and technology achievements in respect of information, science and technology, transportation and other fields. The demonstrated technology was novel with high techncial contents. Lu Jinhui, deputy general manager of Lehua Household Co., Ltd, said on the spot that the cooperation was not only a major strategic layout of ARROW international brand action, but also the representation of the philosophy of ARROW that it will insist on humanistic care providing people with life comfort experience in sanitary wares. ARROW will accept review by people around the world with its high-level technology and top quality products.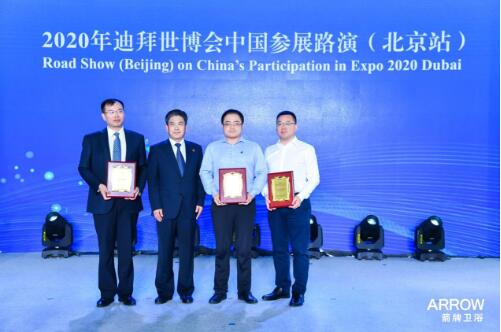 Figure: Zhang Shengfeng, general delegate of the Government of China Pavilion at Expo 2020 Dubai, granted the license to Lehua Household Co., Ltd
As early as in 2015, ARROW was chosen to enter Expo 2015 Milan, and became the supplier of sanitary wares and ceramic tiles designated by China Pavilion, which has started its internationalized strategic process. ARROW has fully demonstrated its rich and complete production lines and strength in scientific and technological research and development at Expo Milan. After Expo Milan, ARROW has been constantly forging ahead towards internationalization. Currently, its products have been soled to more than 50 countries and regions, including the USA, Canada, Italy and Spain.
In the recent years, ARROW persists in its brand upgrading, and arranges its brand image advertisements in all hub airports in China to carry out overall online and offline layout.
*ARROW conveys ARROW's brand philosophy by joining efforts with CCTV2 Secret Transformation;
* It joined efforts with Tencent Home and Tsinghua University Institute of Data Science to publish the White Paper on Lifestyles of Customized sanitary wares in China for 2018 to constantly lead the development trend of China's customized sanitary ware markets;
* It formed an alliance with A+ Designers Alliance to build a bridge for designers, and explored beauty of design and beauty of sanitary wares in life for consumers
*NEW LIFE ARROW 2019 New Product Release was held in W Hotel, Guangzhou
ARROW always follows the brand mission as improvement of people's sanitary ware life quality trying to make its brands closer to users by different levels.
World authentication of progressive iteration top quality for twenty-five years
Two years ago, the state proposed "Made in China 2025", which is is no longer synonymous with low quality products, but affixed with new labels of quality, boutique and innovation. With technical precipitation and craftsmanship for 25 years, ARROW has won more and more consumer recognition with the characteristics of high quality, top looks, humanistic care, etc, and has turned a new page of "Chinese intellectual manufacturing" in the sanitary ware industry
Up to now, ARROW has introduced high-pressure grouting technology and high-pressure grouting lines from Italy and foreign advanced manipulator automatic spray glaze technology, and by means of independent innovation, it has formed its own advantages technology. Moreover, it has built modernized and intelligent production bases. Now, ARROW has 8 production bases, nearly 3000 sales outlets and more than 5000 professional after-sales service personnel across the country, with its products covering smart toilets, surfing bathtubs, constant temperature showers, smart clothes air drying machines, customized sanitary wares and complete sets of sanitary ware space products. ARROW has also completely laid out the industries like ceramic tiles, wardrobes, full house customization.
It is learned that ARROW Smart Toilet V7 Disc series, by using the innovative integrated spool technology -- water inlet and drainage integrated mechanical flush valves, and with clever coordination with ceramic structure designs, it has broken through the bottleneck technology in the industry, and solved the difficult problems with the impact of water pressure on smart toilets. The commonly seen smart toilets require 2 kilograms of water pressure for flushing, but V7 mechanical flush valves can adapt to any water pressure condition to achieve efficient water flush. The design of ARROW Smart Toilet integrated spools can perform automatic flip cover in addition to seat heating. It can also be provided with female wash and toilet wash, smart night lamp and other personalized functions. ARROW has been making unremitting efforts in terms of innovation on the way to science and technology providing people with a totally new living comfort experience. This time, ARROW's products will also be used in China Pavilion of Expo 2020 demonstrating its graceful bearing to the world.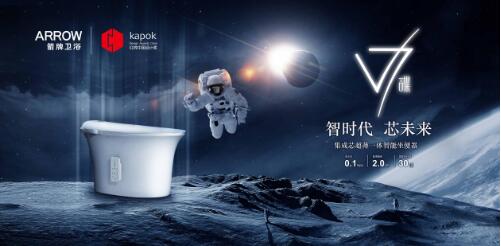 Figure: ARROW Smart Toilet V7 Disc - AKB1320
Previously, with help of its excellent design and exquisite craftsmanship, ARROW products earlier or later won German "IF Design Award", Germany "Red Dot Award", China Innovation Design Award "Red Star Award", One of Top 10 Innovative Technology New Product Award and other honors. It has been fully affirmed by the industry. Its strong brand culture, top quality and service plus good credit help ARROW establish its position in the national sanitary ware industry.
What is noteworthy is that in the period of 618 E-commerce Festival this year, the sales of ARROW accounted for RMB240 million, which is 23% more than 618 in 2018 on a year-on-year basis, so it became the double champion in the list of industrial brands at Tmall and JD. It fully proves that ARROW has been accepted by consumers.
Figure: Chart of 618 Achievements
It joins efforts with the Expo to turn a new page in the world's humanistic sanitary ware
With the rapid development of China's economy, the trend of consumption upgrading has become irreversible. Under the current situation, the consumer demand of users has changed structurally, and the rigid demand, such as price and function, has entered the stage of flexible demand based on lifestyles, which also force Chinese manufacturing industry to attach importance to consumer demand and goods, service iteration and service upgrading. Surprisingly, ARROW is a unique one in the brand-lined sanitary ware industry.
Since it has been started, China Intelligent Manufacturing will make rapid breakthroughs in various fields. To adapt to changes in information, big data and intelligence, ARROW is bold to be one of pioneers to greet new retails in a positive manner, and explore the cross-border cooperation model with other industrial leaders. Recently, ARROW's New Retail Experience House officially started business in Foshan. With its shopping area covering about 10,000 square meters, it researched and selected more than 1000 home sanitary ware products to take the lead in the arrangement of new retail. And by big data, it has accurately understood users' consumer demands so that the customers will experience accurate experience service.
"To construct the community for human destiny -- innovation and opportunity" is the subject of China Pavilion at this Expo. It just coincides with ARROW's "Comfortable Experience and Humanistic Care" as its brand philosophy. By virtue of focus on the smart sanitary ware markets, upgrading of product quality and service experience, ARROW is dedicated to creating values for consumers, and has been outstanding in the market with both opportunities and challenges.
With help of the Expo, ARROW will carry out important actions in upgrading brands to build sanitary ware brands of international competence and influence with innovation, to be determined to be responsible for China Intelligent Manufacturing, to forge ahead towards the world's advanced manufacturing enterprise and help people realize their happy life.
The era of China Intelligent Manufacturing has just started. It is verily believed that ARROW's creativity will drive such an era.