Lately, the list of winners of 2020 German Red Dot Product Design Award was published. ARROW and several other enterprises won the award.
German Red Dot Award famed as 'Oscar' in the design industry has a history of more than 60 years. This Award, Germany IF Award and American IDEA Award are jointly called three design awards in the world.
Peter Zec, chairman of Red Dot Award, highly appraised of the design ability of enterprises in China. He said when he visited China at the end of 2019: "China has become a great country of design with global competence,
and China is now playing a more and more important role at the world's stage."
Good design is the added value of good products
Watson, a great entrepreneur in the 20th century and the former IBM chief executor, said that a good design is a good business. Industrial Designers Society of America measured the design more intuitively: capital investment by USD1 each in industrial design will lead to income worth USD1500.
Peter Zec, founder of Red Dot Award, promoted the value of design across the world. The Red Dot Design Award he established has been called as 'Oscar' in industrial design. Each year, 17000 works from more than seventy countries have been chosen.
"For the first time, value of design is rationally estimated. He has made people believe the importance of design to values of companies and long-term development." said Hartmut Esslinger, president of Frog Design, an international design company, who once designed classic products for Microsoft, Sony, LV and Adidas, while he described Zec.
Xiaomi, which always attaches importance to industrial design of ecological chains, has won Red Dot Design many times. Lei Jun admired and encouraged Xiaomi Design Team using the expression as "the great era of Design in China has come".

Design in China also becomes the competence for enterprises in China to forge ahead towards internationalization. In order to achieve the vision of the world's top smart home brand, Xie Yuerong, chairman and general manager of ARROW Home Group regards intelligence health and youth as the mainstream trend of research, development and production of ARROW.
If what is deduced by smart toilets, smart shower room mirrors, smart constant temperature showers, etc is the design of smart health functions of ARROW, then Aite Series of basin faucets granted to Germany Red Dot Award have improved aesthetics of products with their simplified visual design and fashionable gray colors. The simple lines and delicate detailed processing are the clear and natural interpretation of modern aesthetics.
"China has many outstanding brand enterprises, and their products and design philosophy are highly appreciated." said Peter Zec at the end of the opening ceremony of 2019 Xiamen International Design Week while he was being interviewed with reporters from Xinhua News Agency. Enterprises in China are taking positive actions in stepping on the world's design stage.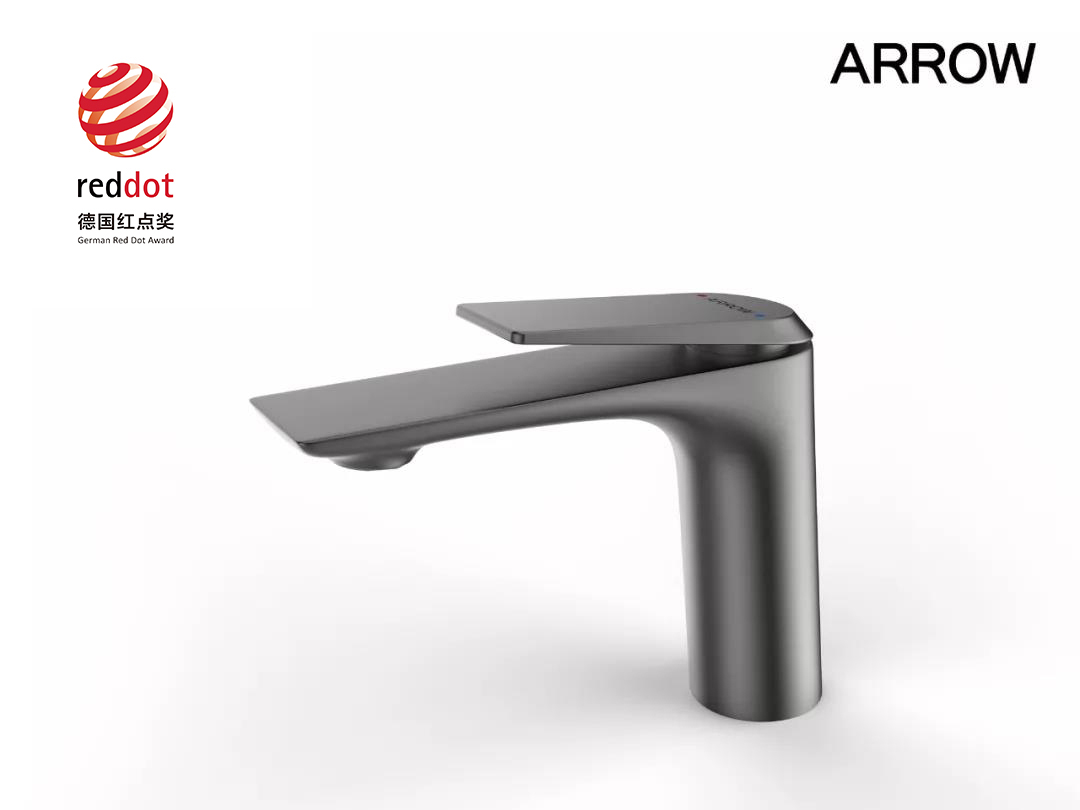 (Figure: Aite series of basin faucets)
Positions of Designed in China and Made in China
If 'Yiwu Index' is used to describe the position of "World Plants" in China, it may be more vivid: bosses of Yiwu Small Commodity Center, by receiving product orders from supporters of flags, hats, T-shirts, etc for American Presidential Election, he accurately predicted results of election of different candidates. Yiwu, China is closely related to daily necessity markets beyond the Ocean. This is the honor of "World Plants" in China,
Behind the honor, the processing profits of the factory is such a satire: Although it owns the world's advanced manufacturing technology and equipment, even if it is the power of global high-end manufacturing, Foxconn's profits are even so small: All manufacturing process of an iPhone is completed by Foxconn, but they can gain the profit from the phone by 2%, and other 98% of profits are seized by Apple Inc.
Fortunately, the position of made in China changes due to design in China.
"My child is using Xiaomi phone, and my employees are using Lenovo computers." said Peter Zec, founder and chairman of German Red Dot Organization. Design in China allows made in China to enter international high-end application, and it demonstrates the master's style of quality and aesthetics in an increasing manner. Naqu series of basin faucets of ARROW having won the Red Dot Award is such an aesthetic and classic model.
Its design comes from the shape of a leaf, with the sector geometric element as its basic form. The exquisite appearance presents the simple and concise lines of the faucet, which complement each other with the round handle, and provides users with a comfortable grip. In terms of colors, the brushed gun gray and champagne gold constitute a strong color contrast. The simple appearance and flexible operation mode offers an excellent water consumption experience.
Zec said, as the "world plant" dedicated to processing and manufacturing, and now as a great country of design with global competence, enterprises in China have been able to compete with top design peers at different parts of the world, and play a more and more important role at the world's design stage.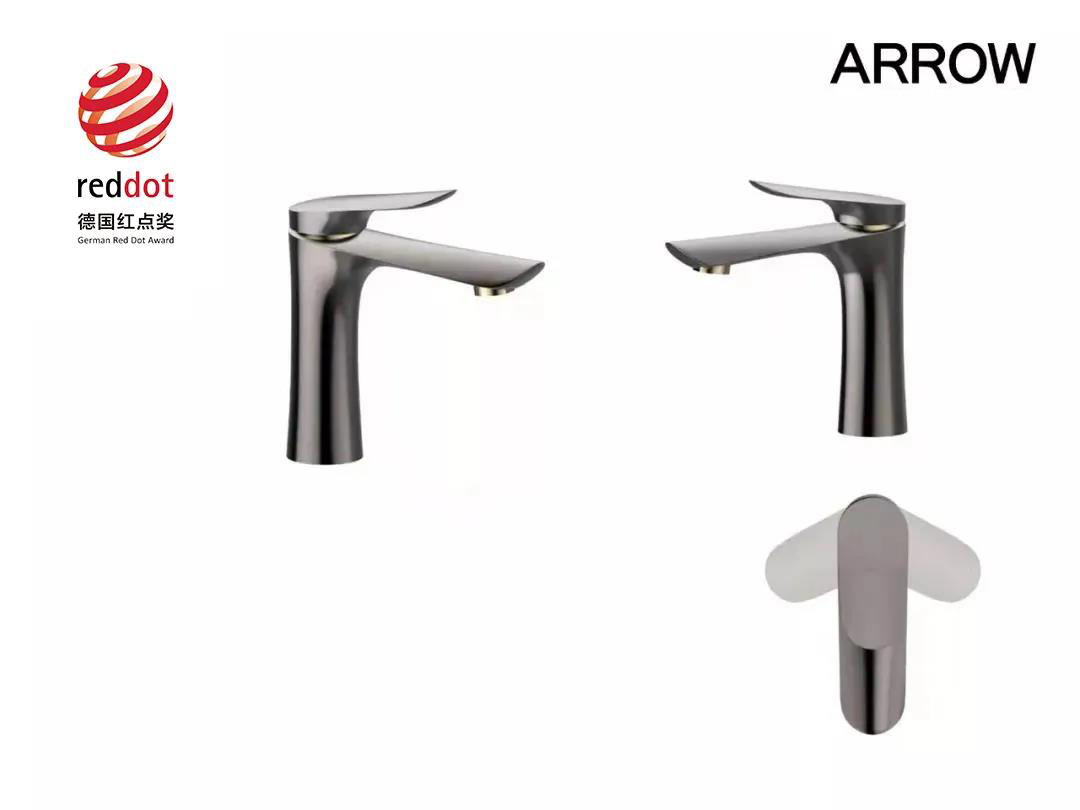 (Figure: Naqu series of basin faucets)
Experts note that made in China desire to forge ahead towards the high end, "made in China" must be turned into "design in China" by innovation, and to further make "China's brand" successful. Over the past years, design in China has won international top design awards, and design in China is now synchronous with the international progress.
When made in China wins international design awards so frequently, and when ARROW becomes the "global smart home master", design in China is becoming such a 'world plant', and winning glories and positions of different kinds.